I'm not a control freak. I just have very particular standards… and if my standards aren't met, I kinda freak out. And by freak out, I mean I unconsciously pull out my hair. So yeah, I have control problems. BUT DOESN'T ANY BLACK WOMAN WHO'S TRYING TO MAKE A DIFFERENCE IN THE WORLD HAVE CONTROL PROBLEMS?!??? Like, I'm sure Oprah didn't become Oprah by twiddling her thumbs and waiting for opportunities to fall into her lap. Homegirl made moves. Oprah… Shonda… Chimamanda… they all paved their own way. And I always felt like I needed to follow suit. Taking the bus in high school to go to choir at 6:50 in the morning and staying on campus until 4:30pm for cross country practice. Studying Calculus BC and Physics C my senior year even though I knew I wanted to study Creative Writing in college. Just like Black art, I felt like I had to do everything exceptionally well just to be given the time of day. I'm not saying I was the only person at my high school who did these extra curriculars. Certainly not. But, in most cases, I was the only Black person. And I wanted (no, needed) to occupy all of those spaces to set a precedent, so more Black women could have a seat at the table in the future.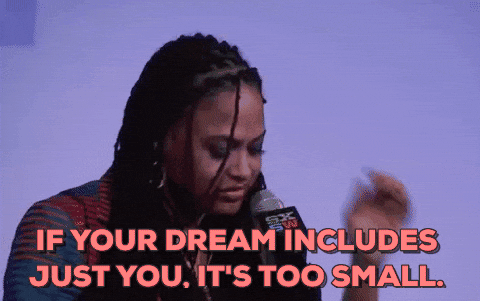 So I've been makin' moves for a long time. And it's earned me tons of wonderful opportunities: a tuition-free college education; interning with world class publishing companies; meeting phenomenal musicians and artists. There are good days and bad days (e.g. crying while folding laundry and the whole hair-pulling-anxiety-thing). I figured it was just part of always being on the grind. But after Trump became the president-elect in the 2016 Election, the idea of "self-care" emerged on my social media.
Bubble baths and reading by candle light. The Obtainable American Dream…
Yes! You CAN eat that piece of chocolate…
Yoga. We swear. You gotta try it
Pretty much the overall consensus was, "Well if we can't stop America from being a shithole, we can at least make our individual lives less shitty." To which I thought: Sign me up, immediately. I read countless women's magazine articles and self-help blogs and dove into self-care. I ended up trying a lot of shit that people say is "self-care," but really isn't.
Eating a Double-Double with a side of Animal Style Fries and a strawberry shake alone… in my car…at 11 o'clock at night… sing-sobbing to Adele

Binging a Netflix show that all my friends recommended but made me feel dead inside

(*cough cough 13 Reasons Why)

Turning "At-Home Spa" Days into "I'm Only Leaving My Room to Eat" Weeks

Over exercising for the sake of appearance or bragging

Tequila (because whoever decided International Self Care Day and International Tequila Day should be on the same damn day has a blood pact with the devil)
~Our 21st century version of self-care strives for autonomy, but lacks the awareness of the disparities within marginalized groups.
Self-care was initially used as a medical concept until the 1960s— a method to provide mentally ill patients. With the rise of the Civil Rights and Women's Movements, self-care became an act of political warfare. Blacks and women elevated their personal and political standards as a means of self-preservation. To protect themselves against racism and sexism. Our 21st century version of self-care strives for autonomy, but lacks the awareness of the disparities within marginalized groups. Self-care should reconcile people's marginalized subject positions. I know yoga keeps your hamstrings loose and gives you time to meditate, but I can't constantly drop that much money (and white yoga's appropriative nature makes me feel uneasy). When starting a self-care journey, you have to proactively analyze if a new habit is actually helping. Brianna Wiest, a American author and journalist, said it best: "True self-care is not salt baths and chocolate cake, it is making the choice to build a life you don't need to regularly escape from." I can't escape my Blackness. I can't escape my gender. So what does self-care look like for me?
I wear a Fitbit
I can't remember how to spell the word "privilege," but I can tell you how many calories I've consumed on any given day without blinking an eye. I'm like a Calorie Count Rain Man. I've struggled with an eating disorder for years, and it's something that never fully goes away. There's always a chance of relapse or trigger. But wearing a Fitbit gives me an accurate representation of how many calories I've burned, so I always know that I always can eat.
I consume media by or about women of color
Studying music at a conservatory, I get my fair share of dead, racist white men music. Often times, the experiences of people of color and women are 1) objectified 2) marginalized or 3) not represented at all. Since the beginning of 2018, I've tried to consume more art showcasing how I interact with the world. Here's just a few artists and pieces of art that I've added to my normal media fix:
Music: Lizzo, Tierra Whack, Jamila Woods
Literature: Roxane Gay, Sam Irby, Carmen Maria Machado
TV (aka Netflix): On My Block, She's Gotta Have It, Dear White People, Chewing Gum
I go to group cardio workouts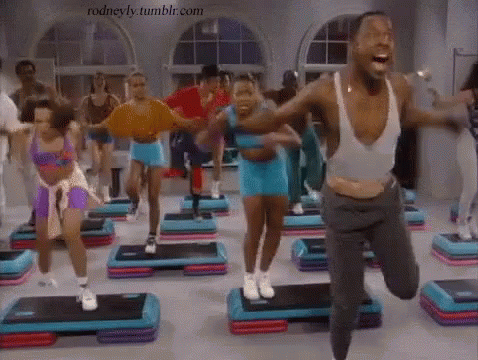 I know. I know. I just bashed on yoga. But I only do classes that are free or are dirt-cheap— and cardio classes usually fall into one of those categories. For me, group workouts are like hitting two birds with one stone (even though I hate that imagery). I'm surrounded by people with good vibes AND I'm doing something good for me. I love sharing these classes with positive people in my life and just expanding supportive communities. My favorite, by far, is Kick It by Eliza because it's all about body positivity and female empowerment (and makes me sweat like crazy)
I'll have a glass of wine every now and then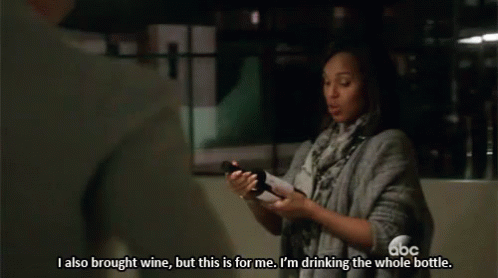 Because it's allegedly good for your heart and makes me feel like a Olivia Pope (and not a trashy Spring Break girl *ahem* I'm looking at you, tequila).
Self-care isn't about doing shit that everyone says feels good. You can't be careless with how you implement self-care because caring for yourself attacks the unacceptable. You have the right to declare autonomy over your own body. So own it.
Have you been careless with your self-care? What does self-care look like for you? Comment below!